January 19, 2023
Wearing Blue & White for Bell Let's Talk Day 2023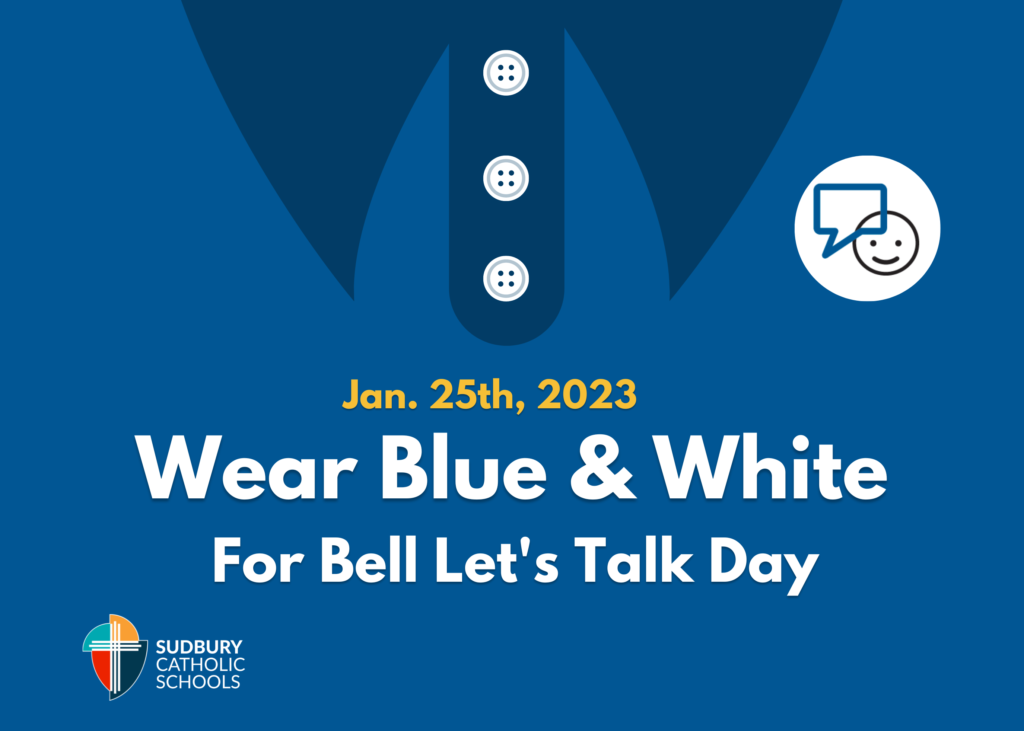 To raise awareness of the importance of open dialogue surrounding mental health, Sudbury Catholic District School Board invites students, staff, and community members to wear blue and white on Wednesday, January 25th, 2023. By wearing blue and white (symbolic colours for the Bell Let's Talk Day campaign), our hope is for our Board community to unite and visually and emotionally show our support for mental health initiatives.
Share With Us!
The Sudbury Catholic School community is encouraged to share their actions with our Board by tagging us on social media and sending pictures, captions, and highlights to info@sudburycatholicschools.ca
About Bell Let's Talk Day
Bell Let's Talk Day is an important event celebrated annually worldwide and is dedicated to raising awareness about mental health and breaking the silence around mental illness.
Sudbury Catholic recognizes the importance of mental health and well-being for our students. Mental health is a critical component of overall health and well-being, and it plays a vital role in the success of our students both in and out of the classroom.
We also acknowledge the importance of reducing the stigma around mental illness and encouraging open and honest conversations about mental health. The more we talk about mental health, the more we can help those struggling and support them in getting the help they need.
That is why we encourage all of our students, staff, and families to participate in Bell Let's Talk Day activities. Whether it's through social media, in-school events, or one-on-one conversations, every action counts in the fight against mental health stigma.
This year's Bell Let's Talk Day campaign highlights ways we can all create meaningful change and take action by doing one or more of the following:
Choose a mental health organization to learn about or support
Help a friend struggling with their mental health by learning how to support them
Ask about how your school, workplace or community is creating change for mental health
Nurture your own well-being by practicing and learning mental health strategies
Get involved in a mental health initiative or organize an event to support mental health
Engage in conversations about mental health to fight stigma
On January 25th, let's continue to work together to create a safe and supportive environment for all our students. Let's break the silence around mental health and support each other in promoting mental wellness.
To learn about the activities and events planned for Bell Let's Talk Day, and view a variety of resources, check out our Bell Let's Talk Day 2023 resource page.