March 22, 2012
The "Dragon's Den" Hits St. Anne Catholic School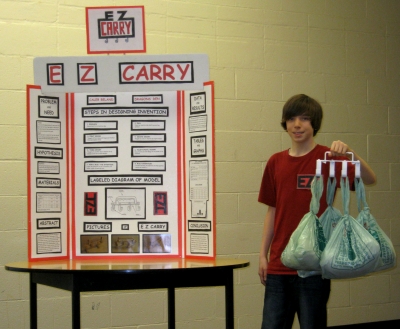 On Friday, February 24, 2012, students in grade 8 at St. Anne Catholic School in Hanmer, participated in their annual science fair. This year, the science fair took on a whole new look, and became an inventor's fair. During the morning, all grade 8 students displayed their inventions in order for the entire school community to view and celebrate their achievements. The inventions were evaluated by members of the community, and ten
inventions were selected to present their inventions to the panel of Dragon's in the afternoon. The dragons consisted of, Mr. Mathieu, principal of St. Anne School, Ms. Ubriaco, curriculum coordinator at SCDSB, Ms. Langlois, physics teacher at Bishop Alexander Carter Catholic Secondary School (BAC), and Jessica Vaillancourt, grade 12 student at BAC. "It was a very refreshing and innovative way to approach science fair. It was very obvious that the students were totally engaged in their work and were very proud to share it with others. It was a great experience for both the students and
myself as a judge. Definitely a venue worth exploring further for all of our students," said Connie Ubriaco. Students worked diligently over the past 6 weeks, planning, constructing, interviewing, testing, and marketing their new inventions. Their innovations demonstrated the development and evaluation of innovative devices, models, techniques or approaches in technology, engineering or computers (hardware and software). With the help of their teachers, Jody O'Daiskey and Julie Caissie, students integrated several technologies, inventions or designs and constructed innovative technological systems that could have human and/or commercial benefits.
St. Anne Angels created highly original products that demonstrated resourcefulness, and creativity in design. Some of the top products were the "EZ Carry", created by Caleb Beland, which aids in the carrying of numerous bags, as well as the "Skaterz Friend", created by Chris Rowsell, which helps teach children how to skate. "I personally had a great time with the Dragon's Den. I especially think that the creativity of everyone made
this Science Fair the best of all," said Caleb Beland, inventor of the EZ Carry. "The science fair at St. Anne's was one of the best I have seen," said Jody O'Daiksey, grade 8 teacher at St. Anne Catholic Elementary School. "Students demonstrated engagement from the minute the Dragon's Den concept was introduced. Their ideas and final products were better than we could have ever expected." "It was exciting to see student's applying all of the research skills we have been developing together all year," said Julie Caissie. "These Dragon's Den projects were an amazing opportunity for students to really showcase their abilities." The Sudbury Catholic District School Board held a board wide science fair on Thursday, March 1st, and four projects from St. Anne Catholic School in Hanmer were among the projects featured.