October 24, 2014
Start your engines!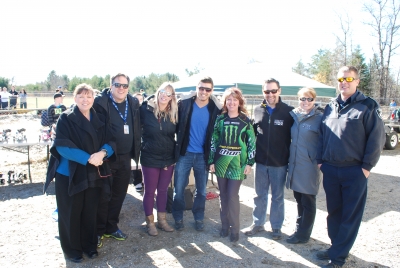 Start your engines! Students participated in the annual Remote Control car races on October 22nd at Bishop Alexander Carter. Students, staff and special guests raced the 1/10th scale racing machines on the student built track at the Bishop Carter R/C Speedway. As an added twist to this year's Bishop Cup event, the Gators invited the R/C club from Franco Cité, located in Sturgeon Falls, to take part in the festivities.
It was an afternoon of high speed and high flying action as over 20 cars raced in 4 exciting classes. At stake were trophies and school pride. To keep track of the action, Bishop Carter set up a state-of-the-art electronic timing system. The system not only tells drivers when to go and stop, but it also keeps track of the number of laps, lap times, and fastest lap all while giving verbal cues to the drivers about their performance during the race.
Not only were students and teachers racing, but a special group of "All Stars" came out to try their hand at R/C racing. This group of star racers included, Bishop Carter's Principal Mrs. Cassandra MacGregor, Joanne Benard Director of Education, Michael Bellmore Trustee, GRant and Skerri from Hot 93.5, Brad and Leanne from KICX, and Mr. Dan Turnbull from the Greater Sudbury Fire Service. Not only did the All Stars have fun, but they also gained a whole new respect for how difficult these little racers are to control.
Bishop Carter's R/C club practices every Wednesday at the school. Many students have joined the club. Some students are racers. Some students are part of a tech crew, while others are part of the track crew. Some students serve as race marshals. There is a part for everyone who is interested in participating in this club.