October 27, 2014
Secondary Student Leaders Participate in Equity Workshops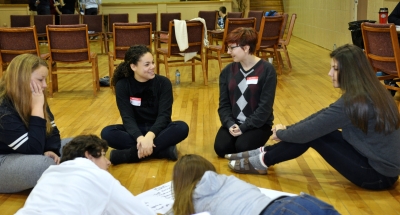 From October 21 to October 24, guest speakers from the Harmony Movement group held workshops for student leaders from all of our secondary schools to talk about diversity and equity in the Sudbury Catholic District School Board.
Biju Pappachan and Caitlin Wood led the 40 students through many activities and discussions about such topics as bullying, racism and sexism. The students were engaged as they examined issues surrounding stereotypes and prejudice and to hear about how many biased images bombard us regularly in the media.
"It's changed my perspective on how to look at different people of different genders and races," said St. Benedict student Laura Rinaldi.
The students gained a much deeper appreciation for the privileges that they enjoy in our society, whether it's gender, socioeconomic status, culture or in other ways. It made them more empathetic toward those who don't necessarily wake up with the same abilities. They were taught that with privilege comes the responsibility to make our world more equitable through examples of student leadership like the pink shirt day anti-bullying movement.
The students who attended the workshops now feel empowered to go back to their schools and work to make their peers more aware of some of the issues that were discussed.
St. Benedict student Breana Mastroianni said, "I really learned how to stand up and take a stand againstt discrimination."
Superintendent of School Effectiveness, Rossella Bagnato, explained the importance of initiatives like this one. "We can't predict the future but we can help shape it and a good place to start is with the students. The Harmony Movement and the equity workshop have provided us with a great starting point."
Congratulations to these future leaders and we look forward to being a part of what you bring back to our schools.