May 01, 2014
NATIONAL YOUTH ARTS WEEK: ROCK N' ROBOTICS EVENT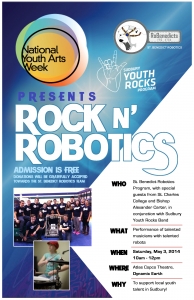 The St. Benedicts Robotics team is hosting an event at Dynamic Earth this Saturday – May 3. We will be demonstrating the robot, in conjunction with Sudbury Youth Rocks Band, as part of National Youth Arts Week. This event will be streamed live across Canada, which is really exciting!
NATIONAL YOUTH ARTS WEEK: ROCK N' ROBOTICS EVENT
National Youth Arts Week from May 1-7, 2014 provides an opportunity for young people across Canada to create a celebration of youth led events showcasing their talents, expressing and exchanging ideas, getting excited about the arts and celebrating their positive contribution to their communities and to Canada. From St. John's, NFLD, to Vancouver, BC, and everywhere in between!
For the first time, Sudbury will be hosting their own events throughout the week. A highlight will be "Rock n' Robotics", an exciting event that will combine a rock band with mechanical robots and professional stilt walkers. It will be a great opportunity to witness the hard work of these youth led/engaged activities from the Sudbury Youth Rocks Band, RoBenedicts Robotics Team from First Robotics Canada, and the Myths and Mirrors' Kazzzam Stilt Walking Performers.
Event Details:
May 3, 2014
10am – 12pm
Atlas Copco Theatre, Dynamic Earth
See attached poster and media document for more details.
Look forward to seeing you there!