September 16, 2014
Link Crew is Back at BAC!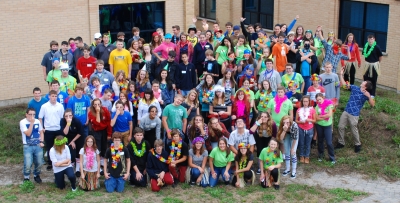 Bishop Carter Catholic Secondary School is the only school in the Sudbury area that participates in the North American Link Crew Program, a program whose purpose is to help grade nines feel more comfortable as well as help them achieve success in their high school years.
The Link Crew grade nine orientation and transition program is designed to both welcome and support grade nines by assigning them a senior Link Leader as a mentor. The Link Crew leaders attended mandatory training days in August where the students were trained by teacher coordinators. This preparation was put to use on orientation day, Thursday, September 4 as the now-trained leaders were confident in facilitating their small group instruction with the energetic grade nine students.
The Link Crew leaders and teacher coordinators are now focussed on planning some exciting events and academic activities for the grade nines to keep this momentum moving throughout the 2014-2015 academic school year.