June 01, 2015
Larocque and Taylor-Horeck – 2015 Chairperson's Award Winners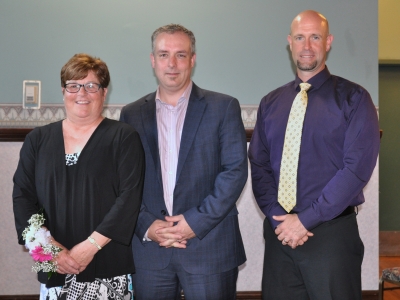 Every year, the Sudbury Catholic District School Board of Trustees selects a recipient for the Board's prestigious Chairperson's Award – someone who embraces Catholic values, demonstrates initiative and ingenuity, and contributes positively to the lives of students and staff. On May 28, at the Board's Retirement Dinner and Celebration for 25 year employees, two Sudbury Catholic employees were presented with this year's Chairperson's Award -Jean-Gilles Larocque, a teacher at Bishop Alexander Carter Catholic Secondary School, and Kim Taylor-Horeck, the Board's Attendance Counsellor.
Jean-Gilles has been with the Sudbury Catholic District School Board for over 12 years, and has been a teacher at Bishop ACCSS beginning September, 2003. He was nominated by staff for being a leader within the school, and for his dedication and ambition in setting the school apart. Larocque is also an outstanding coach and mentor, and encourages students to become involved in sports and extra curricular activities in the school. According to the school's principal, Cassandra MacGregor, "Jean-Gilles fosters the search for meaning as a lifelong spiritual and academic quest in our students – he consistently encourages students to think, reflect and fully evaluate situations when solving problems. He models being a lifelong learner and encourages students to set and reach their personal goals and beyond."
Taylor-Horeck, began with the Sudbury Catholic Board as an educational assistant in 1986 and then took on the role of Attendance Counsellor in 1993. Marymount Academy principal, Lucie Lapalm-Cullen nominated Taylor-Horeck as "Kim always has a very positive and compassionate way of dealing with our most sensitive students. She never gives up on them and is very patient, positive and professional. She will drop everything she is doing to help a student get their life back on track…" According to staff, Taylor-Horeck is quick to help line up students with the services and supports they need and does not "close" their file when she is done. Kim stays in touch with the students, checks in on them and continues to advocate for them.
Jody Cameron, Chair of the Board of Trustees presented both Larocque and Taylor Horeck with their awards. " Jean-Gilles and Kim are very deserving recipients of this year's Chairperson's Award," Cameron stated. "These two employees truly exemplify staff who embraces Catholic values, demonstrate initiative and ingenuity, and contribute positively to the lives of students and staff. We thank them both for their outstanding contributions to the Sudbury Catholic Community, and congratulate them for receiving this year's award."