January 24, 2023
Grade 7 & 8 Students at Bishop Alexander Carter Begin a Junior Concert Band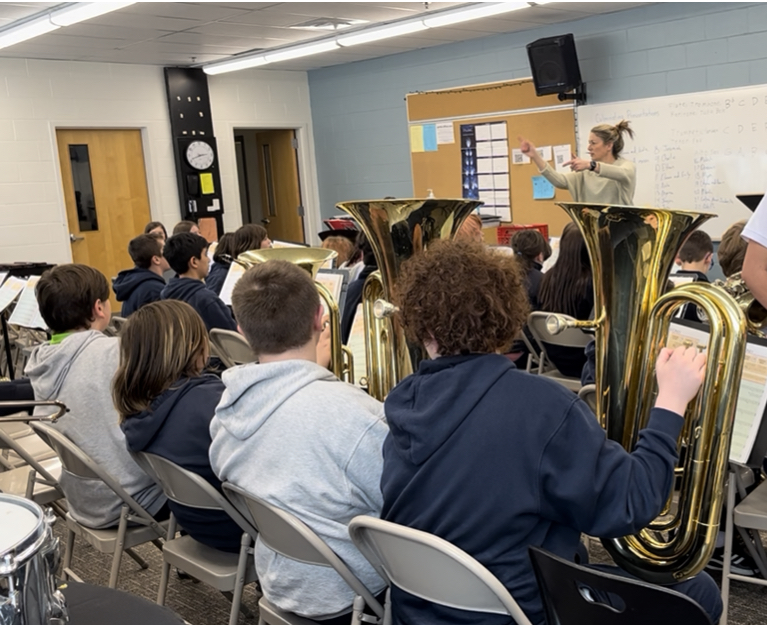 Grade 7 and 8 students at Bishop Alexander Carter C.S.S are embracing the arts with their new junior concert band! The band was initiated by Principal Stephanie Venturi to provide students opportunities to develop in the arts. Having served as a music teacher at St. Charles College for many years, Ms. Venturi is also the band conductor. 
"There are currently 300 grade 7 and 8 students at Bishop Alexander Carter. Every student has interests that are unique to them, I wanted to find a way to appeal to their artistic side. We're new, but we have a band full of eager students willing to learn and that's what's most important!" said Stephanie Venturi, Principal.
Over 73 grade 7 and 8 students have joined the concert band – many of which have not played an instrument before. To assist them, secondary students are serving as senior mentors to support them in their musical journey. The band practices once a week for 2.5 hours and already has their end goal in sight; to play at the Festival of Music at Canada's Wonderland this June.
"I was really nervous at the beginning as I have never even played an instrument before. After just a couple hours in junior concert band, I was so impressed at how well I was doing. I am so thankful for this opportunity, and I am really excited!" said Sebastian Maka-Greening, Grade 8 student at Bishop Alexander Carter C.S.S.
Junior concert bands have been heavily integrated at the other three secondary schools in the Sudbury Catholic District School Board, and act as excellent steppingstone for students to explore music, gain confidence and develop their creativity! With the addition of Grade 7 & 8 students at Bishop Alexander Carter, we are pleased to have them join their classmates across the system by providing this enriching opportunity. The Junior Concert Band and Ms. Venturi are looking forward to the season ahead and improving their performance one note at a time.