June 23, 2016
Dancing under the sun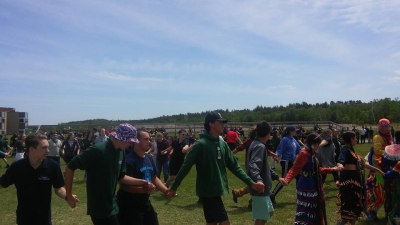 The Sudbury Catholic District School Board hosted a secondary Powwow on June 1st 2016 at St. Benedict School. This was an opportunity for our Indigenous community to share their culture with non-Indigenous community members. Some of the dancers at the Powwow were secondary school students who attend our schools. It was exciting for our participants to see the dancers. Students were also able to share their culture and the style of dance. Those who partook in this event were able to celebrate Indigenous tradition and culture.
Through SCDSB we integrate First Nations, Métis, and Inuit cultures, history and perspectives in our curriculum. As an indigenous support worker we try to bridge gaps between Indigenous and non-Indigenous students. Having a celebration like this brings people together.
The Pow wow celebration was our first this year for our Catholic secondary schools. Many of those who attended the Powwow have never experienced a cultural activity such as this. It is with hope that with the continued support of secondary staff we can strive for more exposure of First Nations, Inuit and Metis Culture. Our students and faculty were given the opportunity to see dancers in full regalia. The students shared songs and the drumming was breathtaking Miigwetch.