October 18, 2012
Bishop ACCSS Student Jumps to New Heights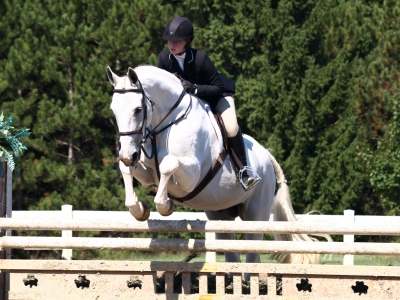 Bishop Alexander Carter Catholic Secondary School student Leah Blanchette is quite a busy girl. Not only is she a dedicated student, she is also quite an accomplished equestrian whose dedication to her sport takes up quite a bit of her time outside of school as well. According to her mother, Kate Blanchette, Leah is a quiet girl and "knowing Leah, not many realize her accomplishments as she is so modest about her success."
Leah completed on the "A" circuit national level the past season and that has meant a lot of time away from home and school with her coach Cathy Inch. Leah and her horse Jinjovan AKA "Joe" train out of Foothills Farm in Chelmsford. Most days involve at least 10 to 12 hours of practice, or showing in the ring and Leah spends at a minimum 5 days a week with Joe and her coach.
Leah and Joe have qualified for the Royal Winter fair, which is the Canadian Equestrian championships, to be held in Toronto starting Nov 2nd. Not only have they qualified, but they have managed to be pinned in all 4 of their divisions (Junior Hunter, A equitation, Junior Medal, and Jump Canada Medal) and they will go to nationals with finishing their qualifying season overall 2nd, 3rd, and 4th place standing. The Royal Winter fair is Canada's premier equestrian show and is a platform for future Canadian Olympians as well as internationally known champions. Equestrian sport is the only Olympic sport where both men and women compete as equals.
Dave Soehner, principal of Bishop Alexander Carter Catholic Secondary School is extremely proud of Leah. "We are blown away by Leah's dedication and passion for her sport," Soehner said. " We support her efforts 100% as she embodies the true Gator spirit, and wish her the best of luck with her upcoming championship."
While she is competing, her trips in the ring can be watched on the Royal Winter Fair website, live feed. Leah and Joe will be in the ring on Friday Nov. 2, 3rd and again for Jump Canada finals on Nov 6th.