February 09, 2012
"Beyond the Hurt" Program at Bishop ACCSS Recognized by Education Minister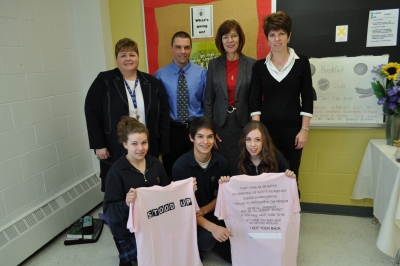 On Wednesday, February 8, 2012 Bishop Alexander Carter Catholic Secondary School participated in a teleconference with Loretto Abbey Catholic Secondary School in Toronto and the Honourable Minister of Education Laurel Broten on the topic of Mental Health and the dynamics of bullying and harassment in secondary schools.
Bishop Alexander Carter had the opportunity to speak about their school program, "Beyond the Hurt". Bishop Alexander Carter is a safer school community because of the Beyond the Hurt team. The team led by two teachers Heather Duguay and Shelley Raymond and currently 10 Bishop students, seeks to raise awareness of bullying and harassment while providing a supportive environment for youth.
The dialogue was purposeful and helped to support the direction of the group for future endeavours.