March 03, 2014
BAC Partners with Crime Stoppers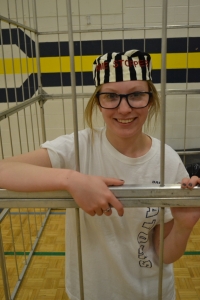 The staff and students at Bishop Alexander Carter partnered with the Sudbury Rainbow Crime Stoppers and held a "Jail and Bail". Students paid money to vote for teachers and administrators they would like to see put in jail. The staff who was put in jail then had to compete in a variety of activities such as sumo wrestling, hula hoop contest and a dance off.
Only the winners of each competition were released from the jail that was constructed and put in the gymnasium. In the end, the president of the student council, Michaela Donnelly-Perras had to compete with the Principal, Mrs. MacGregor in a dance competition. They brought all their "moves" to the dance floor and Mrs. MacGregor sneaked out with the win.
The students raised $500 for Crime Stoppers. Way to go Gators!