October 13, 2015
A Walk to Remember at Bishop ACCSS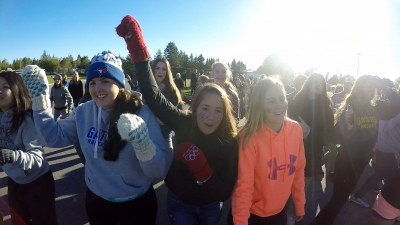 On Wednesday, September 30th, Bishop Alexander Carter Catholic Secondary students participated in the third annual Memorial Walk in memory of Mackenzie Rooney and Denis Dechaine. Mackenzie was a Grade 11 student at Bishop whose life was cut short in a atv accident. Denis was a teacher at Bishop who lost his courageous fight with cancer. Students kicked off the day with a prayer service and zumba, led by Bishop's mascot, The Golden Gator and KICX 91.7 Radio's mascot, Moola.
After the 10km walk, students found themselves back at school enjoying a barbecue put on by the teachers, karaoke, and of course the famous teacher vs. girls flag football game! For the first time in Bishop history, the girl's flag football team tied the teachers.
Mackenzie and Denis' family and friends joined the students and teachers on the walk. "This day always touches my heart. I understand why Denis loved teaching at the school and why he considered it his extended family" said Anne Dechaine, Denis' wife. Money raised from the walk supports KICX for Kids and Mackenzie and Denis' Memorial Fund.